From Data-Informed to Data-Led:
Unlocking Powerful Insights with Digital Analytics
In this data age, businesses need to capture the voice of the customer to improve experience reliably and deliver value. This is all made possible by Digital Analytics.

Digital analytics is the process of collecting, analyzing, and interpreting data that you can leverage to improve any aspect of a business, from marketing to customer service.

Digital Analytics is powered by Universal Analytics (UA), a platform that collects data from website and mobile apps. UA then analyzes the data and provides insights for an informed decision-making.

With UA, you can better understand how customers interact with your business allowing you to design a better experience. UA also provides insights on your marketing channel performs. This insight empowers you to identify the right channels for your audience, optimise campaigns and ultimately drive profitability.
However, UA Will Be Made Redundant Soon...
UA is powered by 3rd party cookies which are used to collect data from websites and mobile apps. However, 3rd party cookies will soon be made redundant because browsers are beginning to block them. Once 3rd party cookies are blocked, UA will no longer be able to process data.

This means that businesses will need to find another way to collect data. The recommended way to do this is by using a 1st party cookie. A 1st party cookie is a cookie that is set by the website or mobile app that you are visiting. 1st party cookies can still be used to collect data even if 3rd party cookies are blocked.
Developing Your 1st Party Data Strategy is Key
Since 3rd party cookies will be made redundant over the next 12 months, making your first-party data strategy critical to maintaining your current marketing effectiveness.
Web and App Analytics are the foundation upon which you build your 1st party data strategy and subsequently your marketing decisions.
Universal Analytics provides you with:

Accurate and Real-Time Reporting that Guides Strategy
Provide relevant real time reports that help you generate insights to make data informed marketing decisions

A Single View of the Customer Across Your Multiple Touchpoints
By integrating all of your multiple properties, you're able to have a seamless, cross-domain and single-view of your customer behaviour



Personalised
Experiences in Marketing that Convert
The Next Generation Measurement Solution:
Upgrading from Universal Analytics (UA) to
Google Analytics 4 (GA4)

Universal Analytics properties will stop processing new hits on July 1, 2023 and will be replaced by GA4.
To future-proof your data, you must implement data migration now.
Key GA4 features that improve paid marketing ROI and effectiveness:

Advertising
Features

Turbo-charge your retargeting and promotional activities
Data
Enrichment

Help optimise your
ad-spend for users coming from different devices and platform


Predictive
Analytics

Help you target users who are likely to convert at scale
A Single Source of Truth:



GA4 integrates Web Data + App Data for more actionable insights and experience design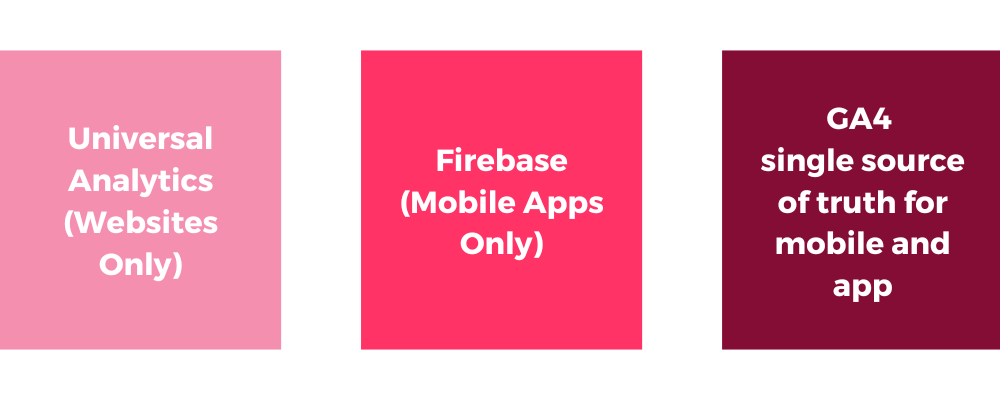 operates across platforms,

does not rely on cookies

uses an event-based data model for measurement

does not store IP addresses, which can help brands stay on the right side of privacy regulations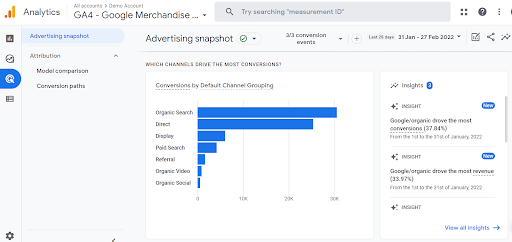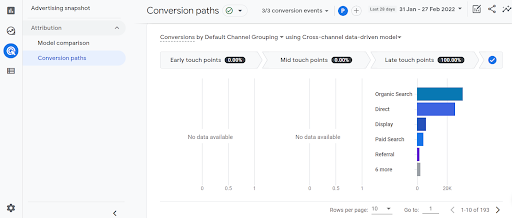 Advertising Snapshot


provides you with a complete view of your channel effectiveness


Typically, CMOs and marketers allocate a large chunk of their budgets toward bottom of funnel and late touchpoint channels. By utilising the channel path report, you're better able to allocate your budgets more accurately and efficiently.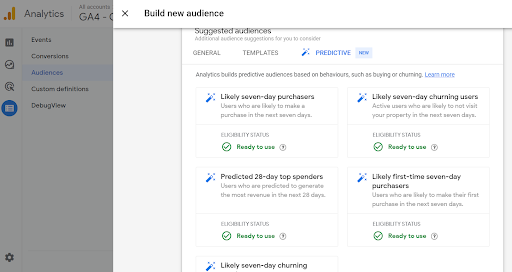 Predictive Analytics


for reporting and retargeting


GA4 brings predictive analytics capabilities like Purchase Probability, Churn Probability and Revenue Prediction.
This predictive audience data can be used for retargeting and prospecting customers, helping to reach the most valuable audience segments and thereby reducing customer acquisition costs.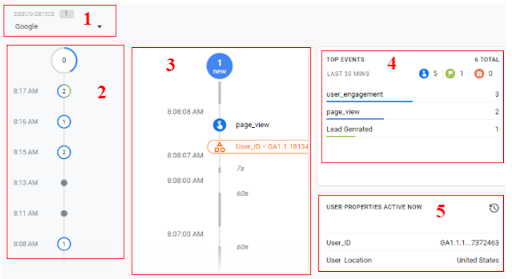 Allows you to build powerful audiences for your ad campaigns
eCommerce properties can use predictive audience list to target users using DV360
Allows you to create enhanced data visualization and reporting
Equips you with built-in tools you need to perform quick data validation and audits
Provides you with more events and parameters centric data unlike UA, where Event Category, Action and Label are the only options available
Delivers improved cross-domain tracking setup
Brings more custom dimensions

and

custom metrics
FAQs

01

How many types of digital analytics are there?

There are two main types of digital analytics: website analytics and mobile app analytics. Website analytics refers to the tracking and analysis of data from a website. Mobile app analytics, on the other hand, refers to the tracking and analysis of data from a mobile application. Each type of analytics has its own unique benefits and features.

02

How can digital analytics help to improve your business?

Digital analytics can be used to track a variety of metrics, including website traffic, conversion rates, click-through rates, and more. By understanding how users interact with your website or app, you can make changes that will help to further increase traffic, engagement, and conversions, which will boost your ROI ultimately.

03

What is Google Analytics 4 (GA4) and what makes it superior than Universal Analytics (UA)?

Google Analytics 4 (GA4) is the latest version of Google Analytics, and it offers a host of advantages over its predecessor, Universal Analytics (UA).

Some of the key benefits of GA4 include:

Enhanced data collection: GA4 automatically collects data from all devices and platforms, making it easier to get a complete picture of your users. This is in contrast to UA, which only collected data from web browsers.

Improved user insights: GA4 uses AI and machine learning to provide more detailed and accurate insights into your users. This includes information on their demographics, interests, and behavior.

Greater flexibility: GA4 offers more flexible reporting options than UA. You can now create custom reports and dashboards that better suit your needs.

Better integration: GA4 integrates more seamlessly with other Google products, such as Ads and BigQuery. This provides you with a more holistic view of your data and allows you to take advantage of Google's other tools more effectively.

Overall, GA4 is a superior tool to UA in terms of data collection, analysis, and reporting. If you're looking to get the most out of your Google Analytics data, GA4 is the way to go.
You'll be in good company
GrowthOps' highly skilled team and unique capability enable us to deliver Google Analytics Version 4 upgrades with minimal client developer resources.
Get a Free Google Analytics Audit