CMOs are seen to be key drivers of growth in a company. With a need to assess effectiveness on marketing spend, are they being rewarded and supported to do long-term brand building?


What do Kraft, Adidas, Airbnb have in common in 2022?
Each of these brands is aiming to grow market share and profitability by keeping brand building activity in their marketing mix.

After analysing around 1000 case studies on what drives the impact of a brand's business performance, the Leading Thinkers in Marketing Effectiveness, Les Binet and Peter Field, concluded that about 50% of marketing budgets need to be spent on long-term brand building to drive sustainable profits.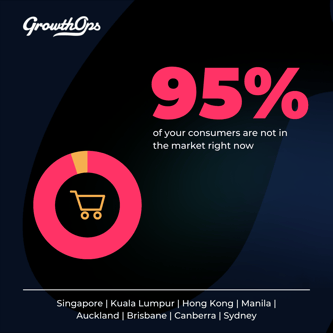 95% of customers are not in the market right now
Long-term Brand Building that is emotional, differentiated and memorable is needed to make Sales Activation marketing effective. The logic is sound: memorable brands are more likely to be selected, in the future, when the purchase is going to be made. Thus both marketing objectives interact to be more likely to succeed. This concept, termed "Mental Availability" is why the 50:50 split allows for CAC to fall over time.
Brand building is a crucial lever in reducing price sensitivity. That ultimately improves margins and revenue. While both are important, in the end, brand building's effects last longer and accumulate over time, unlike Sales Activation's impacts which are correlated to when it is active.
Is Brand Building a Priority for your Business?
Brand building is hard to measure, but it doesn't mean it shouldn't be given priority. Brand building can take up to 3 years to show results. Paid marketing and digital sales activation provide instant feedback on effectiveness and can often be scaled by a good
Growth Marketing
team. Yet as we discussed, both interact to give you an edge in the market.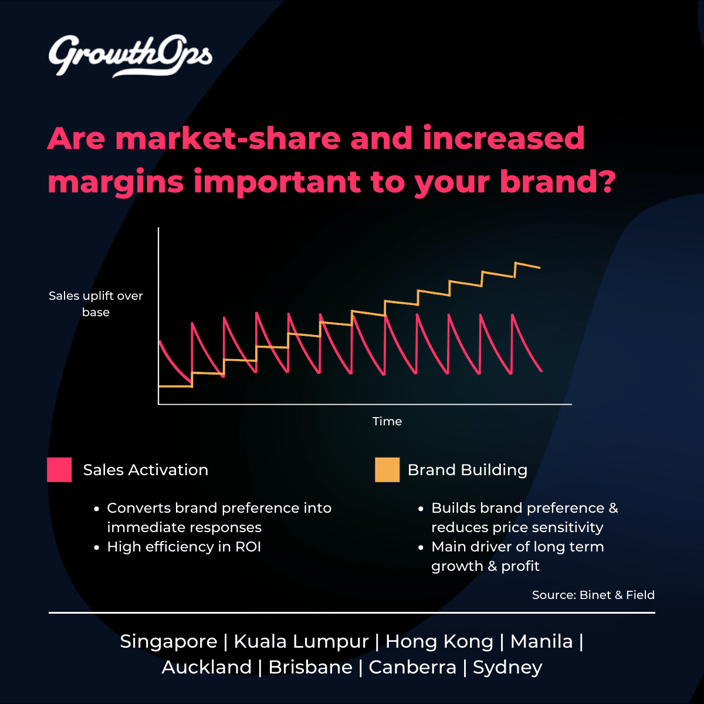 Are market-share and increased margins important to your brand?
Consider the analysis of 500 effectiveness case studies over 20 years (by the Institute of Practitioners in Advertising (IPA). It showed that long-term campaigns were 200% more efficient than short-term campaigns, 200% more likely to drive market-share improvement, and 60% more likely to deliver profit improvement.
Further evidence from a McKinsey research on more than 600 large and mid-sized companies over the past 15 years revealed that organizations with long-term strategies grew 47% faster and earned 36% more than the others.
Top-performing companies are switching priorities from performance marketing to brand building.
Airbnb recently announced that shifting spending from performance to brand-building was the right decision, citing PR as its "most important channel." In 2022, Airbnb will continue to invest the majority of its marketing budget in brand-building as it seeks to attract new hosts and support innovation.
Adidas also pivoted back to brand building to gain more sustainable marketing results. This is after noticing that a previous focus on short-term campaigns had led to their poorer brand health in certain markets.
Even pre-pandemic, brands like the Kraft Heinz shared how focusing on innovation and sales activation alone led to a continued slip – down in their sales by 5% year on year. This brought them to shift their focus back to brand building.
Similarly, brands like Stella Artois, Budvar, Heineken Dove, Lush Blik and GoDaddy also expressed how a focus on brand building has allowed them to grow leverage in terms of profitability.
Bringing these evidences to the C-Suite is a great first step toward getting their support in investing in brand building. CMOs should take time to educate stakeholders about the demand the activity brings at the top of the funnel and how it affects other stages of the funnel.
Measuring Brand Building Results
Measuring the effectiveness of brand building activities may not be instant, but it gives you a focus on important metrics that influences ROI. These key metrics include CAC, Lifetime Value, Pricing, Market Share and Profit itself. By focusing on brand building, you also focus on moving metrics that matter for driving long-term, sustainable profitability.
If the goal is lower CAC, more effectiveness from the bottom of funnel paid, improving price premiums and profitability, there's a clear signal from the best-performing companies. Let us know if you would like to have a chat about building a balanced marketing strategy that stimulates brand growth.