An agile marketing audit to kickstart 2022 planning
You've done a grand job this year and leadership is looking to you to do even better in the next six months.

Before you lock in the marketing calendar, setting up time to reflect on your previous campaigns is incredibly valuable.

A marketing retrospective will allow marketing teams to trace causality and correlations (what worked, what didn't, and why). These insights are guideposts to reviewing levers that should be prioritised to drive results and revenue for the company.
Disconnected, Good and Better Growth approaches
There's always more to do, but here's an outline of suggested skills, capabilities and data that can get you to the next level: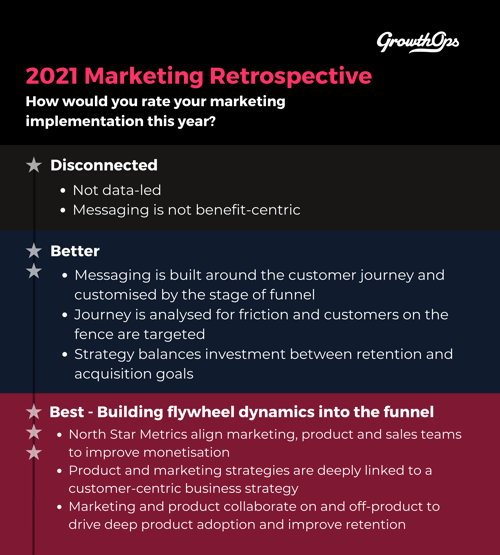 Just like your company, our ambitious, enterprise clients look for growth.

They're looking for a reliable strategy, designed to be implementable. They're looking for the support to put these plans into action, and adapt the tactics as changes in the environment make them necessary (competitor action, changing customer needs, etc).
How can strategy be designed to be more reliable?
Data-driven decision-making is a holy grail of sorts. It isn't unattainable. However, it requires a structured approach that brings your business along a path towards greater marketing and product agility. To move from the point of being data-informed (using static data and reports) to data-driven in driving revenue growth, you need to understand the growth levers you need to pull.
- Are we focusing on retention enough?
- Are we accurately targeting a user segment with the right product-market fit tested messaging?
How can marketing execution and operations be more reliable?
You can go a step further with data, and move towards a data-led state. This is when data not only clarifies your options. At this point data is helping you understand which option is most likely to work, and helps you understand how to prioritise options based on their potential rewards. At this point data is self-serve, so that everyone on the team has access to data that is prescriptive.
- Which segment is underperforming at the 90-day retention point.
- With which value proposition were they acquired?
- Were there frictions in nurturing and onboarding them effectively or was the product just not a good fit for them?
What is the fastest way to understand product-market fit and messaging effectiveness?
Typically, data-led capabilities are only possible in the most data-mature organisations. However, agile and enterprise-grade experimentation is possible before then. We weave it into our marketing strategy development, and it informs our messaging strategy, our personalisation efforts and helps us refine the targeting of segments. Having this prescriptive insight from statistically valid data is a powerful way to accelerate the benefits of data.
It is possible to even use product-market fit testing
- Pre-launch to de-risk successful launches, or
- Use it to improve the potential ROI of marketing campaigns for existing products