What is Singles Day?
Singles' Day — aka 'Double 11' — is a Chinese 24-hour online shopping bonanza hosted by eCommerce giant Alibaba. It is held on November 11th every year and was first launched back in 2009. Since then, it has taken the online sales world by storm. Originally an anti-Valentine's Day event for bachelors; the day has now come to represent a series of retail therapy, promotions, and gamified social media campaigns from retailers across the country.
Why should you care?
It's the next big sales event
Alibaba recorded $38.4 billion USD in revenue globally over the 24-hour shopping bonanza last year. In the US, this online extravaganza has already well overtaken Black Friday and Cyber Monday since 2014 (aka. Thanksgiving weekend).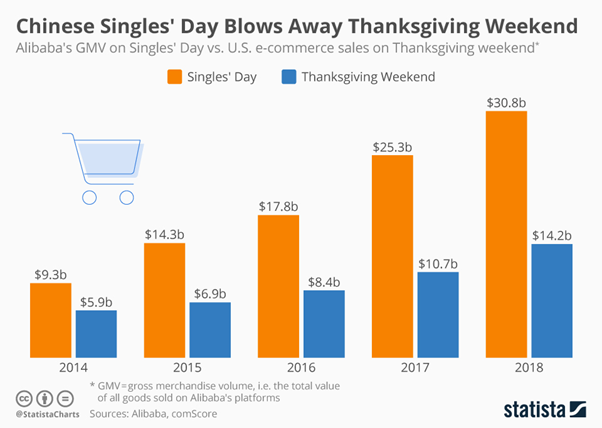 Judging from what's already happened in the US market, it's just a matter of time when Singles' Day is going to overtake Cyber Weekend in Australia.
Aussies are already a fan
More than 500 million shoppers participated last year, with a 25% year on year growth. 65% of the clicks were from China last year, however, coming in second was Australia, which totaled 6.4% (~3.2million) of clicks. Yep. 24hrs, 3.2million clicks on a 25% growth. This is a massive deal!
November is the new December
With COVID still happening in the background, most Australian retailers have taken a hit in overall sales revenue. Sales events in Q4 are more important than ever to make up a significant chunk of this impact. Although Cyber Weekend is still bigger than Singles Day, it is still worth taking part as it is sitting around the same date as Click Frenzy (another crazily big sale event which starts on the 10th November) this year.
In fact, the likelihood of Aussie shoppers increasing their spends in Click Frenzy 2020 is forecasted to be higher than Cyber Weekend and Boxing Day. Pairing Click Frenzy up with Singles Day sounds like a no brainer to me!

Who is this for?
Retailers of any kind. According to Forbes, Singles' Day Shoppers are more particularly interested in categories such as Footwear, Luxury items, Apparel and Accessories, Beauty and Personal Care.
Preparing to win
You don't need to be single in order to leverage this event.
Have your online shopping experience sorted out
One important lesson that COVID has taught us, digital marketers, is that customers get really comfortable shopping online. With lockdowns and restrictions still happening in some parts of the country, retailers are going to push online for the rest of the year.
Know your audience
Singles' Day is really popular amongst young people, so make sure your campaign is optimized towards younger audiences. On top of demographic targeting, if you're running a promotion on Google Ads or Google Display Network, you can layer it with Google's Affinity audience targeting segments such as Shopaholic, Bargain Hunters for your campaign. This will ensure you are reaching out to the correct audiences at all times.
A good offer can make or break the sales event.
The general rule of thumb is that you don't make BAU offers. Customers are savvy and they know if your offer is a special deal for your business or not.
From our experience, a strong promo offer that is something like:
Take x% off + free shipping OR
Buy $xxx and Get 1 full-size product OR
3 for 2 Offer
A not so strong promo offer is something like:
Complimentary sample set gifted with $xxx orders
Use the Number 11 in Creatives
In China, the number 1, represents being single. Hence the event is held on the 11th of November every year. Obviously the number 11 is important to the meaning of this event and integrating it into your campaign will make your promotion pop.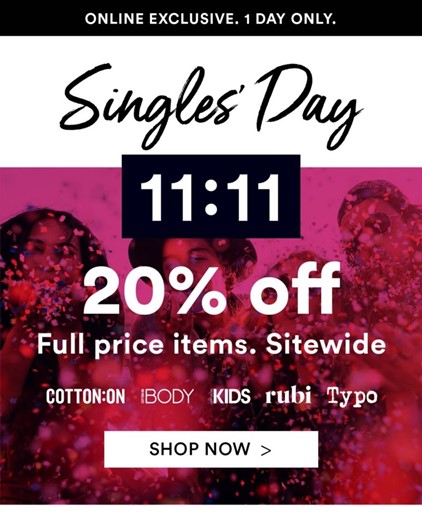 Pick the Correct Channels
Think about a typical acquisition funnel. Your campaign should always begin with the Awareness stage, Consideration, and Purchase stage.
In the Awareness stage, your goal is to inspire, create and spread hype for your business's Singles Day deal. Consider creating a social media campaign on Facebook, Instagram, and Twitter to promote your special offer, and to run alongside your email campaign.
Carefully craft your Google Ads in the Consideration stage to capture "purchase moments". Apart from targeting the correct audience (stated above), and bidding on the correct keywords such as "Singles Day Sale", "Brand + Singles Day", you should also consider implementing the below:
Use a countdown ad to create a FOMO (fear of missing out) effect.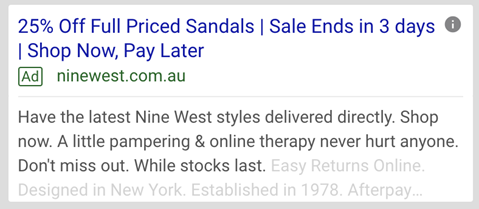 Use Promotion Extension to further emphasize the relevance of the sales event.

Finally, use Partnership Marketing to triple-charge your sales in the Purchase stage. As an eCommerce business, you should consider partnering with cashback and loyalty such as Cashrewards and Shopback to increase brand awareness against your competitors, reach more new audiences during the event and increase conversion rates for high intent customers. Also, tap into more new audiences and consider partnerships with one of the largest Chinese shopping and lifestyle sites, Dealmoon.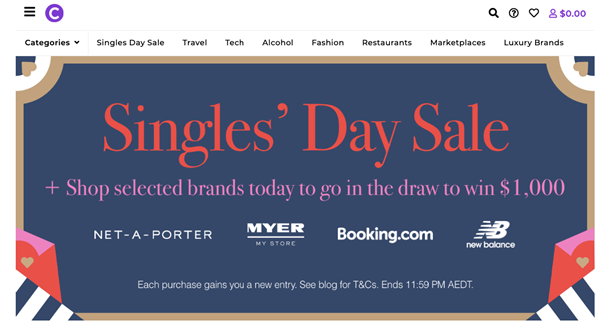 It's not too late, growth opportunity ahead!
While the event is growing its popularity rapidly around the globe, it is still very new to Aussie customers. This means there is less pressure for retailers to whip something fancy up for the event. All you need to do is to take part – Happy Shopping!
By Winnie Chan, Paid Media Director at GrowthOps
GrowthOps is a full-service digital agency that offers end to end digital marketing services such as Google Ads, Social Media, Partnership Marketing, and more. Speak to us about your growth needs today.