Google recently announced its latest plan to delay the blocking of third-party tracking cookies in Chrome browser until the second half of 2024.
While this means more time for advertisers and brands to make their shift to the more acceptable targeting using first-party data, it's not the same case with analytics.
Universal Analytics which relies on third-party cookies will stop processing hits on July 1, 2023, making first-party data strategy a crucial move as ever.
So what measures can brands take today to address privacy concerns while future-proofing data? Before we answer this, here's a short explainer to give you more context about the cookie world, and the changes that are taking place.
Making Sense of 3rd-Party Cookie, Privacy Sandbox API, and Topics API
3rd-party cookies are small pieces of codes placed by websites other than the website you're visiting to help them remember a user's actions. If a server hosting a third-party element responds to the request by setting a cookie, that cookie is stored on the user's browser.
With this practice, advertisers can track users across multiple sites with targeted ads. For brands, this means a better and more personalised user experience.
However, the use of 3rd-party cookies is seen as an invasion of privacy by some users.
In response to this growing concern, Google announced in August 2019 a new initiative called Privacy Sandbox. This aims to develop a set of open standards to fundamentally enhance privacy on the web to make it more private and secure for users, while also supporting publishers and advertisers. Google Privacy Sandbox aims to replace old technologies like 3rd-party cookies and advertising IDs. To make it happen, Google is developing Topics API.
Topics API is a system that preserves privacy while showing relevant content and ads. The browser will detect a handful of recognisable, interest-based types based on recent web usage to help sites deliver relevant ads. With Topics API, users don't have to worry about their specific destinations being made public across the internet, as they might have had to with third-party cookies.
But Google just announced that the development will not be completed until 2024.
"
The most consistent feedback we've received is the need for more time to evaluate and test the new Privacy Sandbox technologies before deprecating third-party cookies in Chrome
," wrote Anthony Chavez, Google's Vice President of Privacy Sandbox in a blog post.

Google Analytics is Changing
Google Universal Analytics (UA) is powered by 3rd-party cookies. And because of this, Universal Analytics is regarded as against the law. This is why Google announced that on July 1, 2023, standard Universal Analytics properties will no longer process data.

So along with the developments being done with Topics API, Google introduced Google Analytics 4 (GA4) to replace UA.


Developing Your 1st Party Data Strategy with Google Analytics 4
GA4 is Google's new generation of measurement solution that collects data from websites or mobile apps using a 1st party cookie. A 1st party cookie is a cookie that is set by the website or mobile app that you are visiting. 1st party cookies can still be used to collect data even if 3rd party cookies are blocked.

GA4 is also complete with new features that improve paid marketing ROI and effectiveness: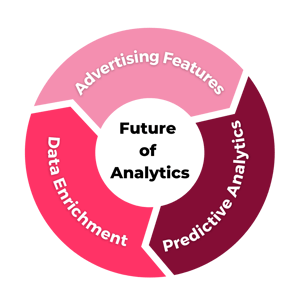 Advertising Features: Turbo-charge your retargeting and promotional activities
Data Enrichment: Helps optimise your ad-spend for users coming from different devices and platform
Predictive Analytics: Help target users who are likely to convert at scale
Another pivotal feature of GA4 is how it integrates web data and app data, giving publishers a single source of truth for more actionable insights and experience design.
Some more notable benefits of GA4 are the following:
Allows you to build powerful audiences for your ad campaigns
eCommerce properties can use predictive audience list to target users using DV360
Allows you to create enhanced data visualization and reporting
Equips you with built-in tools you need to perform quick data validation and audits
Provides you with more events and parameters centric data unlike UA, where Event Category, Action and Label are the only options available
Delivers improved cross-domain tracking setup
Brings more custom dimensions and custom metrics
What now?
Needless to say, migrating to GA4 is not a debate anymore. With the powerful features it offers, switching to GA4 now becomes more than an act to adhere to privacy regulations. Rather it's a tool to create a more effective targeting that puts customers first.


Need help in implementing GA4? GrowthOps has deep enterprise-level expertise from analytics strategy to execution. Chat with us to get a free Google Analytics Audit.